Thermally Conductive Insulators
HIGH THERMAL AND DIELECTRIC PERFORMANCE INSULATOR PAD
Laird Tgard K52 is a high thermal and dielectric performance insulator pad consisting of a
ceramic filled phase change compound coated on MT Kapton film.
Laird Tgard K52 phase change coating all but eliminates contact thermal resistance. The phase
change coating melts at 52°C and replaces all contact areas that contain air. Tgard TM K52-1
is ideal for applications requiring the best thermal performing insulator material.
Laird Tgard K52-2 has the best balance of thermal, dielectric and cut through performance.
Laird Tgard K52-3 is a 3 mil PI film that provides the best crush, cut, and tear resistance available
with thermal properties that are still in the high-performance category.
FEATURES AND BENEFITS
• High breakdown voltage of 4,000 – 9,000 VAC
• Resistant to tears and cut through
• Total thermal resistance of
0.13 - 0.30°C-in2/watt at 20 psi clip
force
APPLICATIONS
• Audio amps
• Power modules
• Switching mode power supplies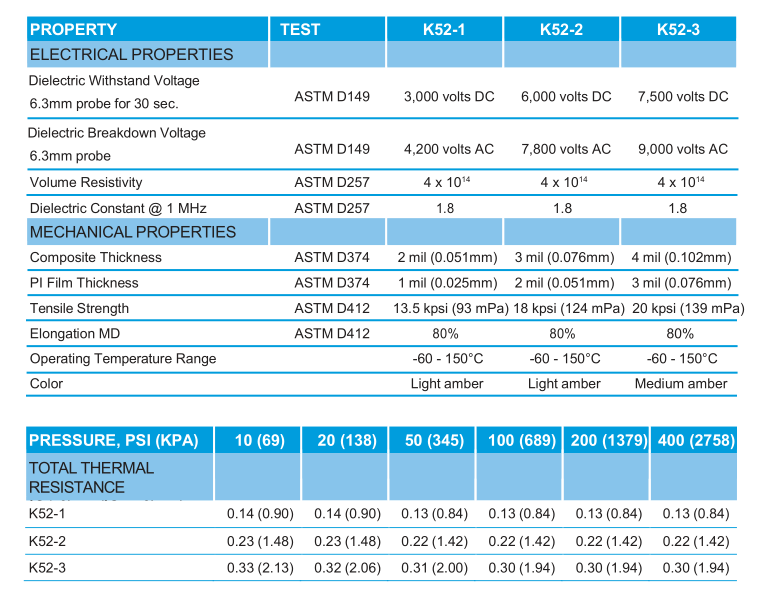 Converting PARTS: Sheets and stand die cut availability for TO-220, TO-247, TO-3P, TO-3PL, and TO-264
CUSTOM DIE CUT PARTS: Custom configurations available with standard tolerance of 0.5mm (0.020").
Ability to handle drawings in multiple file formats. (.DXF and .DWG preferred)
PRESSURE SENSITIVE ADHESIVE: Single side adhesive available on request with "A1 "suffix. Please
note this adhesive is intended to be a mounting aid and not for permanent bonding. A slight increase in
thermal resistance may be seen in comparison to material with no adhesive.
Data for design engineer guidance only. Observed performance varies in application. Engineers
are reminded to test the material in application