Laird Conductive Fabric Shielding Tape
Significant advantages over other fabric and foil shielding tapes include:
• Available UL510 flame rating.
• Thinner design provides superior flexibility and durability.
• High conductivity and shielding effectiveness.
• Adhesive system provides high peel strength.
• Easy die-cutting and processing.
• Superb adhesion of nickel copper plating.
• Eliminates the potential of injury due to the sharp edges
of metal foil tapes.
EMI shielding tape is available in standard roll widths from 0.394" (10 mm) to 3.937" (100 mm) in 0.197" (5 mm) increments and roll lengths
of 65.62' (20 M). Master rolls are available in sizes up to 1.0 meter widths and 20 meter lengths. For your unique design requirements, custom
die-cut parts are also available.
Some typical applications for EMI shielding tapes include:
• Shielding cables on notebook computers, copiers or other electronic equipment.
• "Fix-it" applications in test laboratories.
• Shielding over a component in which high conformability is essential.
• Shielding or grounding in weight sensitive applications.
• Shielding or grounding for electronic equipment where vibration may be present during operation.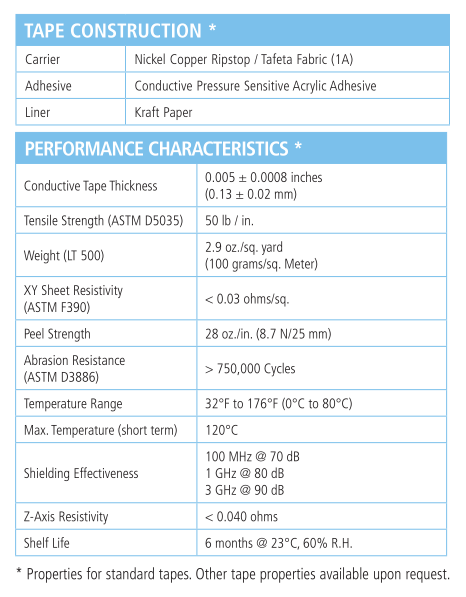 ORDERING INFORMATION:
86-726 Standard Tape
86-785 Standard Tape
86-203 Black Tape
86-205 Black Tape
87-580 UL510 Rated
DS005 Double Sided Tape
D6-785FX Double Sided Tape
76-750 Thin Tape