LAIRD FINGERSTOCK USB CONNECTOR
LAIRD FIBER OPTIC SHIELD
LAIRD GBIC FIBER OPTIC SHIELD
USB CONNECTOR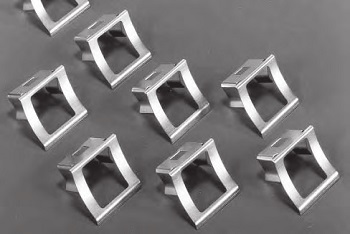 Laird offers the USB (Universal Serial Bus) Type B connector gasket.
The unique design easily snaps onto the connector prior to placement on the
printed circuit board and fits all Series B USB right angle connector brands.
Made from high performance beryllium copper, these gaskets provide superio r
grounding characteristics and enhances the shielding of the connector due to
the short electrical path to the ground plane provided when the gasket makes
contact with the connector.
• Gasket easily snaps onto the connector for a secure fit
• Connector/gasket assembly can be placed onto the board via pick-and-place
• High clip force attaches clip to connector body for good electrical contact
and secure transport prior to soldering
• Once the shielded connector assembly is soldered to the PCB, the shield is
captivated between board and connector and provides reliable contact
between the connector and faceplate
• Simple compact design fits within 0.625 in. X 0.625 in. (15.875 mm X
15.875 mm) windows
• Available in a variety of plated finishes
FIBER OPTIC SHIELD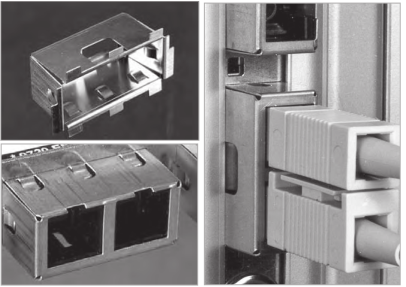 Laird provides fiber optic shielding, which provides excellent EMI shielding
around the faceplate aperture which houses board mounted fiber optic
transceivers. This EMI shield easily fits over the industry standard 1 x 9 style
fiber optic transceiver with a duplex SC connector. The shielded transceiver
is then inserted into the faceplate.
• Fits all 1 x 9 style fiber optic transceivers with duplex SC connectors
• Provides shielding around the faceplate aperture which houses board-
mounted fiber optic transceivers
GBIC FIBER OPTIC SHIELD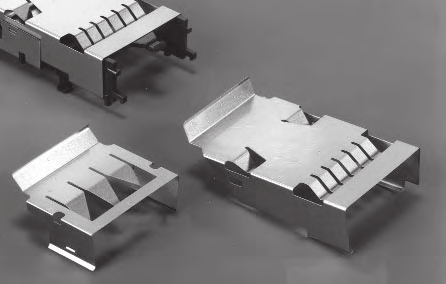 Laird offers the GBIC Shield for reducing emissions from GBIC
(GigaBit Interface Converter) fiber optic transceivers. Fiber optic transceivers
can be a troublesome source of EMI because they emit high-frequency signals
and are located adjacent to large apertures in the enclosure. The GBIC Fiber
Optic Shield assembly reduces the radiated emissions from the transceivers
by conducting interference current away from the transceiver and onto the
enclosure surface.