With the rapid growth of electric vehicle (EV) platforms, there are many variations of battery pack design. Liquid-cooled heat sinks are common,
but the configuration can vary from single cooling plates to multiple cooling plates or even cooling ribbons, depending on the manufacturer and
the vehicle footprint into which the battery packs must fit. Within the battery packs, the cells themselves can be either cylindrical, prismatic, or pouch type.
Regardless of the design, efficient cooling is vital for all battery packs to extend battery life and vehicle range and to enable fast charging of depleted packs.
Thus, manufacturers need a thermal management solution that is adaptable to their ever-changing requirements.
A common ingredient in all battery packs is the thermal interface material (TIM), used to make a thermal connection from the cells and/or modules to the heat sink.
Increasingly manufacturers are choosing liquid-dispensed gap fillers over the more traditional thermal gap pads. We have published a number of studies discussing
the technical and manufacturing advantages of gap fillers, which are dispensed as two-part liquids that, upon mixing, cure over time to a solid material.
The advantages include superior thermal transfer due to their lower interfacial thermal impedance and their ability to conform to micro- and macroscopic surface irregularities,
manufacturing flexibility and speed due to robotic meter-mix-dispense (MMD) application, and lower overall cost.
BERGQUIST two-part, cure-in-place materials are dispensed as a liquid onto the target surface. As the components are assembled,the material will wet-out to the adjacent surfaces,
filling even the smallest gaps and air voids. Once cured, the material remainsa flexible and soft elastomer, designed to assist in relieving coefficient of thermal expansion (CTE)
mismatch stresses duringthermal cycling. Gap filler is ideally suited for applications where pads cannot perform adequately, can be used to replace greaseor potting compounds,
and is currently used in power supply, telecom, digital, and automotive applications.
Liquid Gap Filler Key Performance Benefits Ultra-Low Modulus: Minimal Stress During AssemblyBecause gap filler is dispensed and wet-out in its liquid state, the material will create
virtually zero stress on components duringthe assembly process. Gap filler can be used to interface even the most fragile and delicate devices.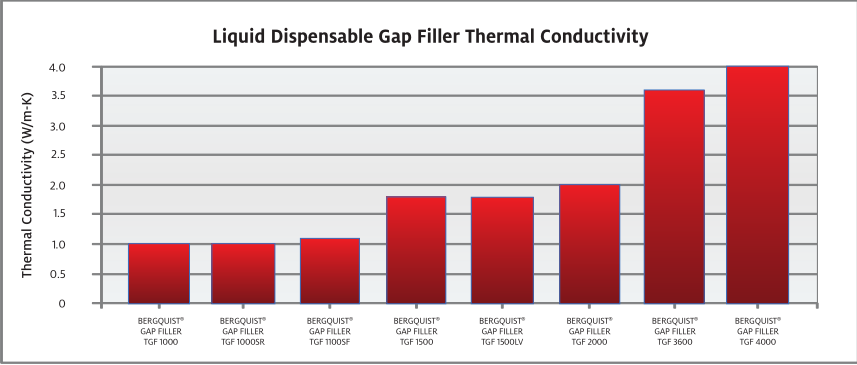 Commonly used models are BERGQUIST GAP FILLER TGF 1000,BERGQUIST GAP FILLER TGF 1000SR,BERGQUIST GAP FILLER TGF 1100SF,BERGQUIST GAP FILLER TGF 1400SL
BERGQUIST GAP FILLER TGF 1500,BERGQUIST GAP FILLER TGF 1500LVO,BERGQUIST GAP FILLER TGF 1500RW (One-part),BERGQUIST GAP FILLER TGF 2000
BERGQUIST GAP FILLER TGF 3500LVO,BERGQUIST GAP FILLER TGF 3600,BERGQUIST GAP FILLER TGF 4000,BERGQUIST TGR 1500A,BERGQUIST TGR 4000
BERGQUIST LIQUI-FORM TLF LF2000,BERGQUIST LIQUI-FORM TLF L3500,Thermal paste,GAP FILLER,BERGQUIST GAP FILLER TGF,Thermal Conductive Grease,etc.